As Chair of Southeastern's Women in Rail Empowerment (WIRE) group, Natalie Leister has spearheaded an initiative to raise awareness of menopause symptoms and provide greater support for employees impacted. She discusses what has been implemented, her learnings and why it's so important for other employers to follow suit.
Breaking the stigma
Nearly two-thirds of women in the workplace experiencing the menopause say it has a negative impact on their work, citing issues such as reduced concentration, increased stress, confusion and a lack of confidence. Yet only 5 percent of UK businesses have a dedicated menopause policy.
"Menopause has just been that taboo topic that nobody talks about – not even your Mum!" says Leister. "Your mother talks to you about going through puberty and childbirth, but not about this. Yet it's a natural phase in a woman's life – the conversation needs to be normalised."
With more women increasingly going through the menopause during their working lives, the consequences of organisations shying away from the topic and not providing adequate support are proving more pronounced, she says.
"We want to be able to attract a diverse team. But if women experiencing the menopause aren't able to access the right support in the workplace, they're not going to apply or they might consider early retirement. It can be a real career killer."
Starting the menopause conversation
When Southeastern's WIRE group was formed in late-2018, one of the first issues raised was the menopause.
"I went out and spoke to staff and managers and was surprised to find a number of women and men suffering with this in silence. People were experiencing symptoms, struggling from a lack of knowledge, and it was impacting home lives and stress levels. I realised it was quite a big issue and something we needed to provide support on."
In September 2019, Southeastern marked Menopause Awareness Month and National Inclusion Week by running a series of manager and colleague menopause awareness sessions, facilitated by Deborah Garlick from Henpicked, a network for women over 40. Each session explained the facts about menopause, and advised how to have sensitive conversations with employees experiencing symptoms.
"It was great to see the amount of people who attended the sessions. Everybody said they took something from it and many have said they now feel comfortable having that conversation with their manager, employee, doctor, husband, wife, colleague or friend."
One Southeastern employee who benefited was On Board Manager Richard Cheesman, who attended a session with his wife Carol. He says: "I was one of those men who would step back and keep out of the way. I now know a lot more about why certain things happen, so I am more thoughtful about what I say. I'm also much more aware of the help that's out there if needed – both at work and beyond."
Cheesman's wife Carol adds: "Richard now better understands what I'm going through. It's great that Southeastern is talking about things like this."
For Leister, after a full week of running awareness sessions, she went home feeling like she'd really made a difference.
"The positive engagement we got from the sessions was fantastic and it has created a snowball effect, shifting how the menopause is perceived within the company. To me, that's a tale of success."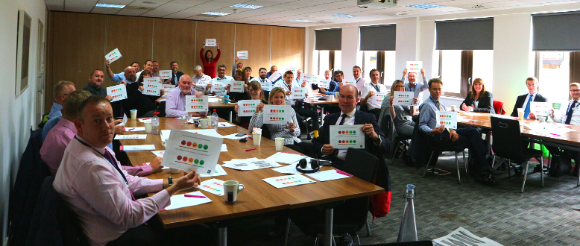 Tips for creating a menopause-friendly workplace
Leister's tips for implementing menopause awareness and support programs within the workplace are:
1. Be honest and open
"Not everyone will feel comfortable talking about the subject – acknowledge that. By being honest and open, you're creating a safe environment to have the conversation."
2. Position it as an awareness exercise
"Our managers aren't doctors. All of our communications acknowledged that this was an awareness piece, we didn't expect them to know the ins and outs of the subject. It was just about providing some knowledge and knowing how to start the conversation."
3. Make sure there's the follow up
"It's important to keep the conversation going. Our awareness sessions were followed up by internal communications, toolkits for managers and a formal menopause policy, as well as providing desk fans, flexible working conditions and breathable uniforms. We're also currently looking at online training. This not only helps people access information ongoing, but shows the business is really committed to this."
Encouraging women into the railways
Leister has been in the rail industry for 10 years and loves that it's a sector where you can truly make an impact, especially in her job as an Area Manager, in which she's responsible for 42 train stations and 240 staff.
"I can really make a positive difference to somebody's day. Particularly at Southeastern, you have a voice and are empowered to influence change and speak up with new ideas."
It was this desire to make a difference that led her to become involved with the WIRE group, along with a sense of duty to promote the great career paths for women within the rail industry.
"I hear so many women say, 'On no, I wouldn't work for the railway, that's a male job' – that's the mindset we want to change. This is a great company and industry to work for. We've got some fantastic, inspirational women in the railway. It's a privilege to be able to champion them and encourage more women into the railways."
---
Content by WORK180, the jobs board with a difference! WORK180 pre-screen employers on paid-parent leave, pay equity, flexible working arrangements and more. Find out more and look at their jobs feed, visit their website, or follow them on Twitter at @WORK180_UK‬.
---